About Me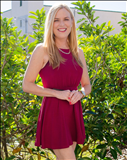 International business ambassador with two decades of international property market experience, Moire, born in Ireland and now living in South Orlando, is now focusing on her true passion, working with overseas investors, both selling their Central Florida Investment or finding them their Orlando home!
Passionate focused and hard working, Moire loves to sell property and to deliver a high level of professional and warm service to each client.
Selling? Selling your property is a skill and Moire sells homes!!
The home selling platform is:
Expert market analysis skills and knows how to price your property
Marketing both internationally and domestically
Have strong negotiation skills, maximizing your return
Someone who will fight for you
Someone who has the La Rosa Corporate backing
Have accomplished sales and marketing strategic planning
Moire has Fight, Grit and is Hard Working!
Moire is a certified international property specilist
Moire can facilitate you with the international FIRPTA Laws
Foreign Investment in Real Property Tax Act of 1980
Moire will handle your international selling process seamlessly and hold your hand throughout the entire process
Moire has clients from The Americas, Europe, Asia, Africa and Australia.

Understanding and accommodating to all their different needs.

Moire Thrives to be outstanding in her field.
A Condotel Expert. Moire brings 10 years of direct condotel experience to your property sale by:
Having distinguished product knowledge
Having various condotel developments available in the south Orlando area to buy
Fetching you the highest return on your condotel investment
International Investors
Working with international clients on a daily basis, Moire is not only able to meet all clients needs, but exceed them.
Specializing in international sales:
Knowledgable about international process
Finances and transfer of funds
Requirements of an international loan
Ultimately making the process seamless from beginning to end
Call or provide your contact information so Moire can contact you right away!